Would You or Your Team Benefit from Motivational Business Coaching?
Highly effective motivational business coaches are routinely acknowledged for providing superior outcomes and results. Perhaps your group or organization would benefit from hiring a professional business coach.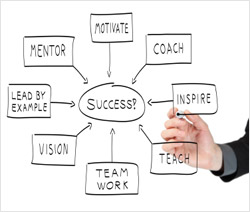 Not so sure? Here is a look at why Coaching For Enhanced Performance can be a value-added affiliate and partner for your team or your company.
There are many factors that contribute to the growth and stability of a business:
Customer service
Quality products and services
Effective pricing strategies
Targeted marketing and advertising
Timely delivery
However, while focusing intently on their business processes, company owners and managers may unintentionally neglect other areas that are also important to the success of their business.
One area often overlooked is employee motivation – perhaps until it is too late. It is well accepted that motivated employees and management are more likely to achieve and/or exceed expectations.
Benefits of Motivational Business Coaches
A performance-oriented business coach can:
Design and facilitate workshops
Conduct one-on-one coaching sessions
Encourage teamwork and collaboration
Reinforce individual and team confidence
Recognize and help celebrate accomplishments
Intent versus Impact – When Motivation = Demotivation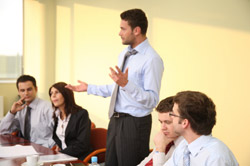 There is, unfortunately, a negative component that is frequently included in discussions about employee motivation. Explicitly, this refers to instances when managers choose to reprimand employees as a means of improving performance. This strategy may (and does) backfire as it can actually be demotivating for the employees. Equally ineffective are attempts to coach teams or individual employees when the individual providing the coaching (i.e. the manager) lacks insight into the process needed for effective coaching. In such circumstances, it would be beneficial to hire a business coach who can deliver the requisite message with confidence and credibility.
Coaching For Enhanced Performance – How We Can Help
Coaching For Enhanced Performance recognizes and emphasizes the positive aspects of individual and team performance while addressing areas for further development and growth. We can also assess numerous facets of your business to arrive at the best decisions for strengthening or streamlining operations.
The insight and coaching provided will not be patronizing – it will be objective, unbiased, and constructive. As requested or required, we will identify the root cause(s) of any performance-related issues and work toward resolving those situations through the preparation and implementation of a specific developmental plan.
Contact us today for your no-obligation consultation.
Act on addressing
your business
coaching and
training needs
today.
Call us at 905-439-0485 or Contact Us to arrange your
no-obligation consultation.